A chance to linger in a fascinating cemetery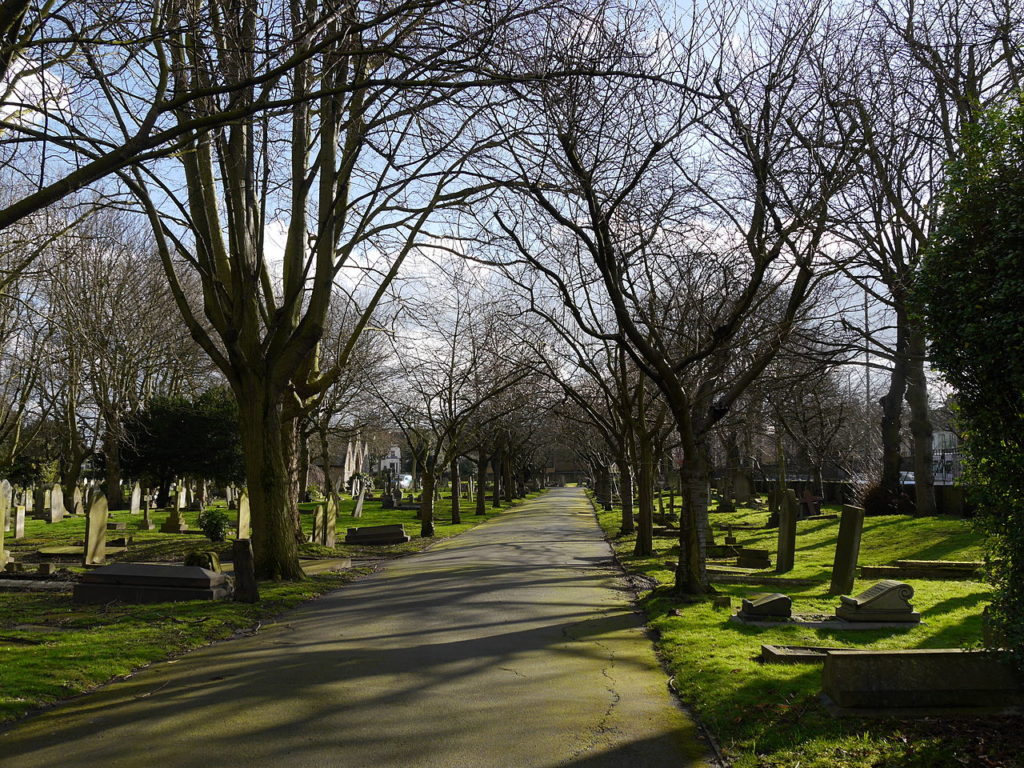 The starting point is the mini roundabout at the intersection of Magdalen Road & Lyford Road. Facing Wandswoth Prison turn left (westward and slightly downhill) on Magdalen Road with the tennis club on your right. When you come to the wide gates of Wandsworth Cemetery turn in and choose a route along the grid of paths among the graves.
The cemetery has been crammed into an irregular space between the road and railway line and has (despite the trains) a peaceful air., partly due to the to the mature trees throughout the site. As well as several thousand civil graves there is a war cemetery with five 1914-1918 War Plots: nearly 500 service men from all over the Commonwealth were buried here. This was the closest burial ground to 3rd London General Hospital in the Royal Victoria Patriotic building which housed thousands of wounded troops. In the 1914-1918 war. A further 115 were buried here in the1939-1945 war.
When you have finished wandering, exit the cemetery through a pedestrian gate at the far end. Cross Magdalen Road into Tranmere Road. Walk the length until you reach Waldron Road; turn right and then left into Bridgford Street. At the end go straight across Burntwood Road and enter Garratt Green playing field. Circumnavigate the field and exit where the fence panel has been removed on the Aboyne Rad and mini roundabout.
Turn right up Burntwood Road and walk along beside the hedge; as you progress up the road you will see glimpses of the Springfield Hospital re-development site. When you reach the intersection with Beechcroft Road, cross Burntwood Lane and keep going for a short distance before turning left into Sandgate Lane; turn left.
Immediately into Sandgate Lane, bear right on to a woodland path into The Scope area of Wandsworth Common; take this until you reach a wide tarmac path with streetlamps; turn left and follow the path to the end on Lyford Road. Turn right and proceed along Lyford Road until you reach the starting point.