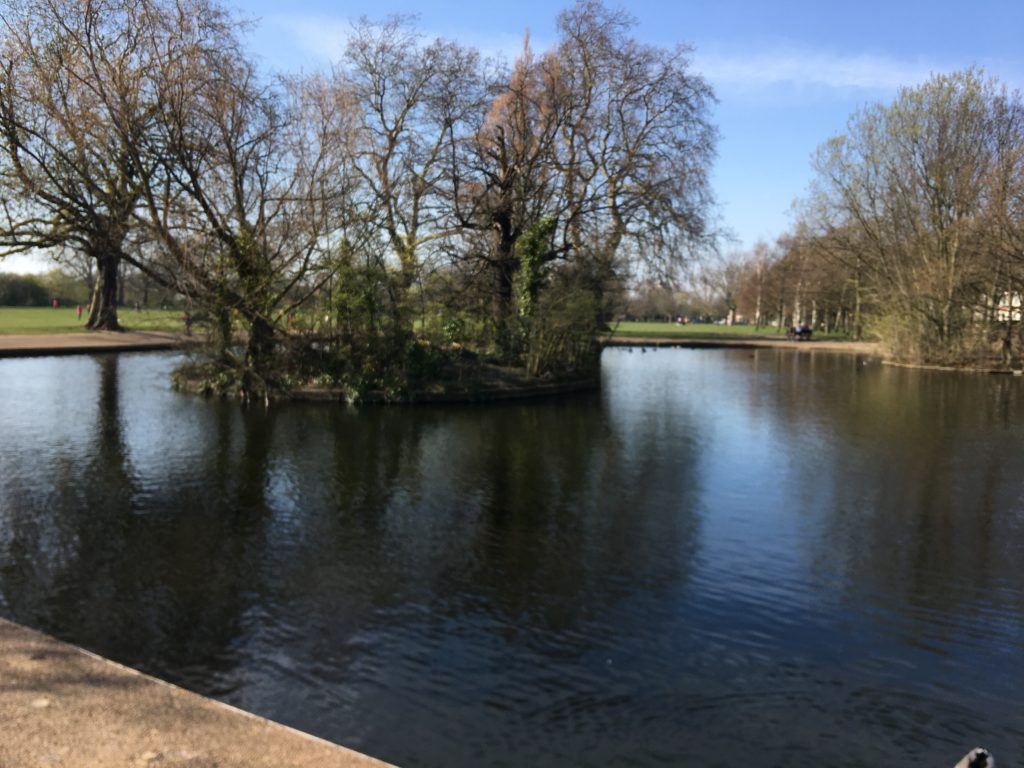 A circular walk linking sections of the Common
The walk starts at Book House at the top of East Hill. Cross the road at the lights outside the Co-op and turn left. Walk along the road and over the Trinity Road bridge and its slip roads to reach the Common. Turn right over the grass and pass between the two shrubberies on to a large expanse of grass called Northside Common; try and spot the path across the middle, head for it and turn right so you are heading south, parallel with Trinity Road. Follow the path over the first cross paths to the second one (with another shrubbery on your left). Bear left down the slope into the dip known as The Frying Pan, the remains of an early gravel working.
On the far side the path takes you up a slope to Windmill Road; cross this road and go down John Archer Way, across the railway and past the Royal Victoria Patriotic Building. At the end of this road there is a gate on to the playing field. Turn left and walk round the edge including through the woodland above the railway cutting. When you reach the tennis courts, skirt to the left of them and enter the bowling green and flower garden. Your exit gate is directly opposite; through this turn left by the Skylark Café. Bear left on the path by the playground and walk to, and cross, the Cat's Back bridge over the railway.
On the other side there is a choice of four paths; take the diagonal path to the left at 45 degrees to the railway. Go along this path and then cut across the grass to Three Island Pond. Then go left along the path parallel to Bolingbroke Grove until a tarmac path goes half left up to the playground. You can then follow Chivalry Road until you reach Arundel Close. Go left and follow the close round to the right; where the road runs out you will find a path between the houses which eventually emerges on to Battersea Rise opposite the St Marks Area of the Common.
Turn left towards the traffic lights and left again in to Spencer Park. Walk along the right hand pavement until you reach Northside Common again at a point where Spencer Park takes a sharp right to become a minor residential road; walk up this road until you can cross the grass to the central path; follow this up to North Side Wandsworth Common. Cross this road, the South Circular, at the zebra crossing and turn left.
Before you arrive back at the starting point of the walk you will see Mount Nod Huguenot Burial Ground behind the railing on your right, soon to be added to the long list of Wandsworth's open spaces.