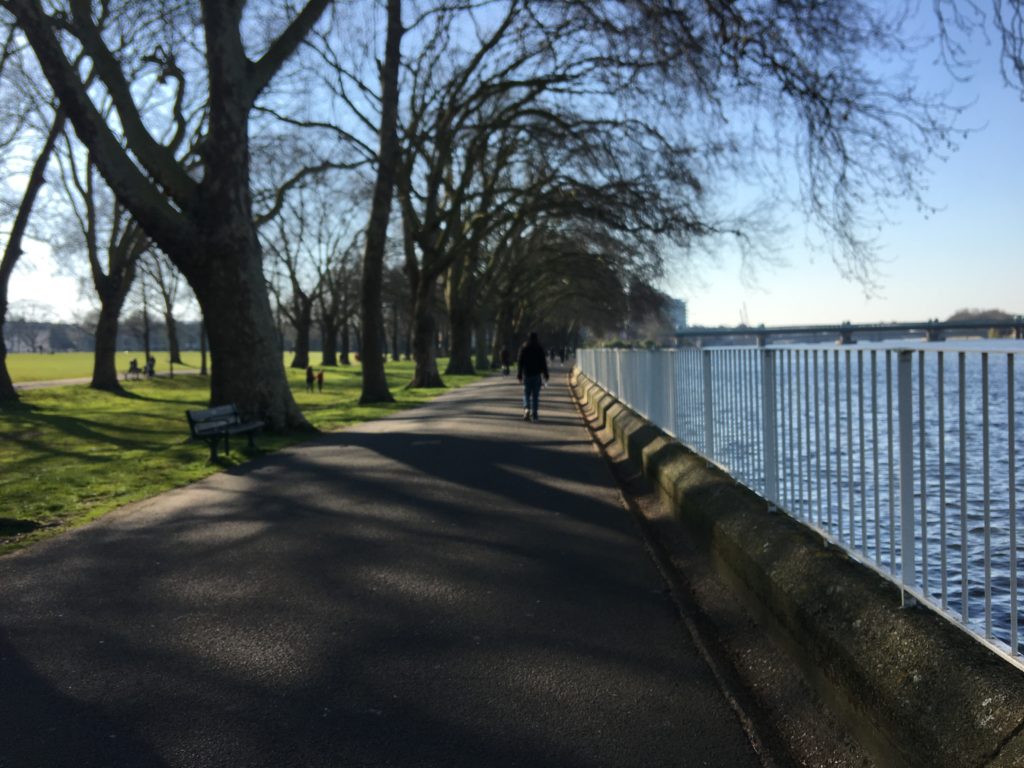 An interesting and varied riverside walk including a circular of Wandsworth Park
The walk starts at Wandsworth Town Station. From the station turn left into Old York Road under the railway bridge. After the bridge turn right into the gardens to admire the Bramford Community Garden along the bottom of the railway embankment. Exit the park into Swandon Way, going to the pedestrian light to cross over into Smugglers Way to the left of McDonalds. After the shop called Roche Bobois, as the road goes left, go straight ahead on the pedestrian route between the blocks of flats until you reach the river where you turn left into Nickols Walk.
At the end of the flats the path goes ahead but ends abruptly so, before you get to the end, turn left into Waterside Path. When you emerge back into Smugglers Way turn right along the front of the Waste Transfer Station. Keep going to reach a footbridge over the Wandle. Normally it is pleasant to walk on the Spit but this is currently closed off (March 2020).
At the end of the footbridge turn right on to the newly opened path around the Riverside Quarter development, keeping going past the Thames Clipper pier and the houseboats, into Wandsworth Park. Walk on the path right around the perimeter until you are by the playground, back in the direction you came from.
Skirt around to the right of the tennis court and Putt in the Park until you reach a low exit gate on to Northfields; cross this road to the street named Point Pleasant and follow this round the corner until just before the Cat's Back pub where you turn left into Eastfields. Just past the entrance to an underground garage, turn right between the blocks to Osiers Road where you turn left.  After a short while turn left into Enterprise Way (by a Sainsbury's Local) and walk to the end where you are in sight of the footbridge over the Wandle that you crossed earlier. Cross the bridge and before you proceed look for the Society's plaque on the wall. Now turn right immediately before the second bridge into The Causeway which runs eventually along Bell Creek (note the bell on the left half-way along and massive workings of the Thames Tideway on the right).
At the end of The Causeway by the Crane pub you meet the A3/South Circular on the Wandsworth One Way system. Cross this road at the pedestrian lights (to your right) and walk along Wandsworth Plain, past a row of Georgian houses. At the end turn left for 100 yards along Wandsworth High Street before turning left to enter the Ram Quarter. Meander through area this to reach the far exit into Ram Street. Turn left and follow the pavement round to the right to cross Fairfield Street into Old York Road – and back to your starting point.